CARD
CAREERS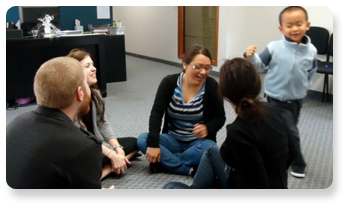 The Center for Autism and Related Disorders, Inc., (CARD) has earned a reputation as one of the world's largest and most experienced organizations effectively treating children with autism, Asperger's syndrome, PDD-NOS, and related disorders, using Applied Behavior Analysis (ABA). At CARD, we truly believe that recovery is possible and we develop our programs with that in mind.
In 1978, the founder of CARD, Dr. Doreen Granpeesheh met a young boy with autism named Corey. His gentle nature, exceptional memory and desire to interact touched her heart. The positive impact of the therapy he received inspired her to start the Center for Autism and Related Disorders, Inc. (CARD) in 1990. Dr. Granpeesheh spent 12 years studying autism treatment under the direction of renowned autism treatment scientist Dr. Ivar Lovaas. Dr. Lovaas discovered that intensive early intervention using applied behavior analysis treatment yielded a 47 percent recovery rate among children with autism who participated in his study.
Today, CARD has 19 offices in the United States, and two international offices which help to touch the lives of hundreds of children and their families. Through a network of trained therapists, supervisors, assessors and researchers, and with our web based technology, Skills and CARD E-Learning, we develop and implement high quality, comprehensive and personalized treatment programs which lead to success, and in many cases recovery. Currently we have a staff of nearly 1,000 worldwide, but we are expanding quickly. CARD strives for success and even recovery for every individual it treats.
"None of these life changing programs would be what they are without the work of our exceptional staff. They sincerely care about our clients and they demonstrate their dedication every day."
-Doreen Granpeesheh, PhD, BCBA